69% of businesses use email marketing to engage with their customers and business partners. The top goals for businesses using email marketing are growing and retaining customers, increasing engagement, and selling products and services.
Some people argue that the practice of email marketing is dead, but marketing statistics prove otherwise. In fact, in 2014, a study found that email marketing was three times more effective than using social media to engage with customers. Orders resulting from email marketing campaigns were also 17% higher on average than orders obtained through social media marketing.
And it does not end there. A report from The Radicati Group, Inc. in Palo Alto, CA found that worldwide email users will continue to grow at an annual pace of 3% through 2021.

Image Source: "Email Statistics Report, 2017-2021" (The Radicati Group, Inc.)
Marketing efforts using email marketing, however, are not created equal. Marketers may find their email marketing attempts falling flat leaving them feeling frustrated and less than excited about email marketing.
So, what sets successful email marketing apart from run-of-the-mill marketing attempts?
Read on to find out how to use effective email marketing tips and tricks to improve your marketing campaigns, engagement and revenue.
Here are Our Top 7 Effective Email Marketing Tips
Successful effective email marketing tips first and foremost take into account the needs of your target audience. Content, the number of emails sent, and the size and type of your business will all impact your email marketing strategy. When you're ready to craft an effective marketing email, follow these essential email marketing tips and tricks.
1. Always Grow Your Email List
Provide your customers with multiple opportunities to sign-up to receive emails from your company. Utilize multiple marketing channels to promote the benefits of signing up to receive emails from your company as well.
To start, place subscribes links on your website either within content, at the footer, or on a sidebar. These links should feel natural and complement the content. At a minimum, place these links on your homepage, contact us page, and your "about us" page.
We also have a subscribe section on each of our blogs that live in the sidebar navigation:

Customers frequent these pages in order to learn more about your company. Placing subscriber links on these pages gives the customer an opportunity to learn even more about your business without needing to fully invest in your services and products.
This gives them a chance to learn more about your business before buying in. It also gives your business the chance to prove your company's products, services, and trustworthiness to new and repeat customers.
Another way to grow your email list is in-person. If you attend or host an event, provide an email sign-up sheet so customers can receive your newsletter, product updates, and promotions. Make sure your email sign-up sheet also gives your business a chance to collect applicable target audience customer demographics such as occupation, education, and gender.
Collecting these demographics will help you to send email subscribers personalized marketing emails tailored to their interests and needs. And since everything is almost done online, collecting leads via social media platforms such as setting up an event via Facebook can also help in building your list.
2. Create Offers People Cannot Resist
Irresistible offers don't focus on selling, but rather meeting customer needs. When customers understand how a product will meet their needs, they connect with how the product will benefit them in their daily lives.
The best offers are placed within high-quality content. People's emails are swamped with offers and promotions, but how many of these emails actually provide them with useful content?
Your marketing email content should be inherently useful to customers and be an attempt to gain their trust. This allows customers to feel like you're not selling them a product or service outright. Aim to provide customers value for the sake of putting their interests before your own.
Ask yourself how you would respond to your marketing email as a consumer. If the email's offer seemed to benefit the business more than you, would you act on it?
3. Keep Your "Hook" Above the Fold
Your email marketing hooks need to be more creative than "click here" or "buy now." Email recipients are bombarded daily with these types of superficial "hooks", which inspire little to no action without context and personalization.
Personalize your hooks by using the recipient's name, maintain a friendly and human tone throughout, and aim to be likable and trustworthy instead of cold and monotonous.
Make your hooks seem exclusive to the customer by connecting to their demographic data and resulting needs. For example, your email hook could offer an exclusive product to mothers only on Mothers Day. This will make your email recipient feel special and valued as a result of your business's desire to connect and keep their needs in mind.
Another way to use exclusivity to your advantage is to inform customers that a limited amount of offers exist. For example, if you're hosting an event notify consumers when only 15 spots are available; this will make them more apt to opt-in.
Reciprocity can also be useful in email marketing. By giving away a deal or gift to your customer, they will be more likely to return the favor. This will also give your business the opportunity to connect with the customers face-to-face.
4. Make Sure Emails are Mobile Friendly
These days, almost everyone has a smartphone and uses it often. In fact, in 2018 nearly 80% of Americans owned a smartphone. Litmus also evaluated over 1 million emails opens and discovered that mobile opens are far outweighing desktop and webmail: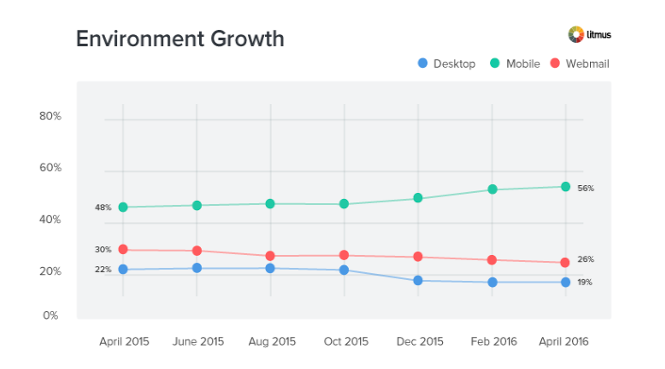 Image Source: Litmus
To successfully reach the vast majority of smartphone users and to utilize effective email marketing tips and tricks, you need to make sure your marketing emails are mobile friendly. Test your emails by sending them to a colleague or to your own email and then open the email on a mobile device.
Make sure the email is properly formatted, loads quickly, and retains its vital design elements. Use a single column template, shorten your subject lines, and reduce the size of images. Also, use a larger font and avoid conflicting ones to accommodate mobile devices' smaller screens.
5. Add Opt-in Opportunities Throughout Your Blog Posts
Blog posts are a major player to help you improve your SEO, provide your customer with valuable content, and increase your customer's trust in your company. Adding in opt-in opportunities throughout your blog posts is an opportunity for you to reach your customers on a direct marketing channel.
Nestle opt-in links throughout your blog content as it naturally relates to the topic. For example, if you're discussing the benefits of a product, then call your reader to action by stating, "subscribe here to receive more information about the benefits of X."
Also, make sure to always include a call to action at the end of your blog post. An example of a call to action including an opt-in opportunity is, "Like this post? Comment below and Subscribe to Join Our Community."
6. A/B Test Your Subject Lines
Before you send out an email to your entire email list, A/B test your subject lines. Subject lines alone can cause an email recipient to either read, delete, or report an email as spam. Since this could affect your future email marketing campaigns, it's important to always A/B test your email's subject lines before sending them out to your entire email list.
To start, hone in on which two subject lines you'd like to test. You always want to take into account your brand and your target audience when deciding what subject lines to test. Factors to consider when testing subject lines are whether to include an emoji or not, tone of voice, and making a statement versus asking a question.
The goal of A/B testing is to determine what types of subject lines are most positively received by measuring open rates.
Next, select 25% of your email list and split the number of recipients in half. Send one subject line to half of the group and the other subject line to the other half. Allow each email to have an equal amount of performance time to accurately track results.
Pro-Tip: In our experience, an hour is plenty of time to test an email subject line. While others might say longer, the urgency with emails is key. If people are opening, get it out to the rest of your list as soon as possible.
Once you discover which email performed better, send the remaining 75% of your contact list the email with the most effective subject line. Document your results and the factors influencing these results in order to create more effective subject lines in the future.
7. Stuck in Spam, Consider Only Sending to Gmail Addresses
Gmail is the most popular email provider around the globe. By tailoring your marketing efforts to Gmail users and knowing how to avoid Gmail's spam folder algorithm, you can more effectively use your time and resources.
Gmail has two ways of identifying whether or not an email is a spam. First, it takes into account an individual subscriber's history of interacting with your emails. Secondly, it measures the effectiveness of your emails on a group basis by tracking how many people are opening your emails and moving them to folders.
When both factors are positive, then you build a relationship with Gmail as an email provider. A positive relationship allows your emails to automatically reach an email recipient's inbox instead of being funneled to the spam folder.
Effective Email Marketing Tips and Tricks in Action
Utilizing these effective email marketing tips and tricks will help your next campaign to be more successful and productive. Whenever you craft an email for your campaign, always keep the reader's interests and needs first. Keeping in mind that if you wouldn't want to open a similar email, then your customer likely won't either.