Posted by:

Josh Astete
Comments:

0
Post Date:
April 14, 2020
---
Keywords Everywhere Review: Most Affordable Keyword Research Tool
Josh Astete
Keywords Everywhere is a widely used keyword research tool created by Axeman Tech in 2016.
Keyword research tools are necessary to find keywords that rank you high in Google Search.
This article will critique Keywords Everywhere, to help you decide if it's the tool for you.
Overview
Keywords Everywhere is a popular keyword research tool created by Axeman Tech in 2016. There are over 800,000 users of the browser-based software as of 2020.
It initially became popular because it was a free tool — this is no longer the case. However, it still remains very affordable. Check out our Keywords Everywhere review and take a deeper dive.
Keywords Everywhere Review
Features
As mentioned in the overview briefly, Keywords Everywhere is browser-based — it's an extension/add-on. There are no real heavy downloads or installations.
IMPORTANT: Keywords Everywhere only works with Google Chrome and Mozilla Firefox.
As the keyword tool is now freemium, there are "free" and "paid" features.
Free Features
There are only 3 free basic features:
Ability to see Google "Related Keywords" and "People Also Search For Keywords"
Insight report for YouTube Search and Tags
URL analysis
The first feature pops up when you enter in searches on Google.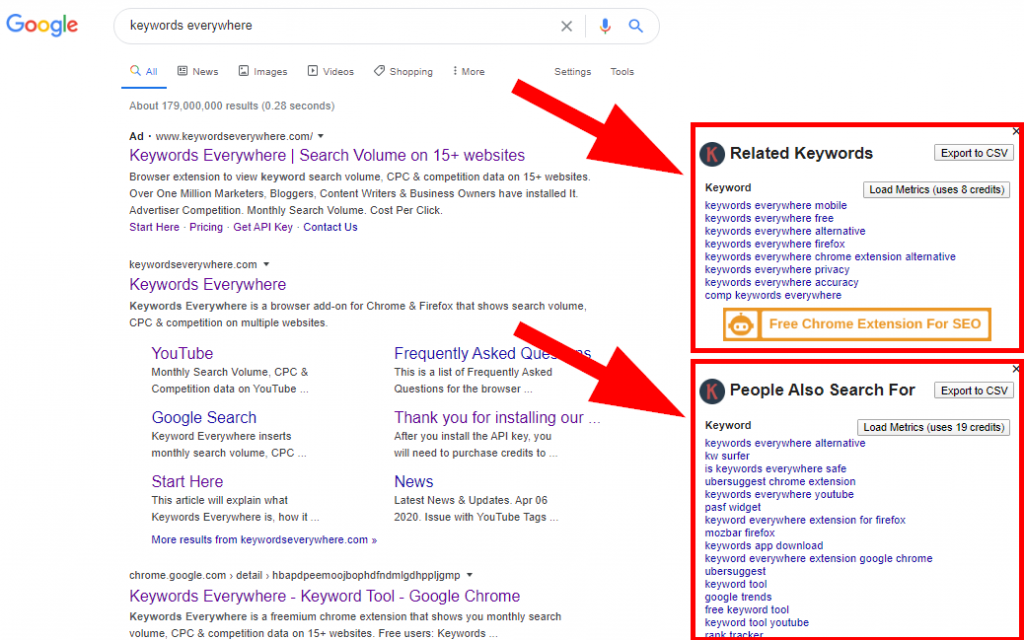 It's simply a list of other keywords — no real data to speak of — no volume, CPC or competition stats.
The YouTube insight report also appears when you enter a search.

No volume, CPC or competition — just views, age and whether or not the keyword is in the video title. You can click to see a "detailed breakdown."

And the last free feature is the ability to analyze URLs.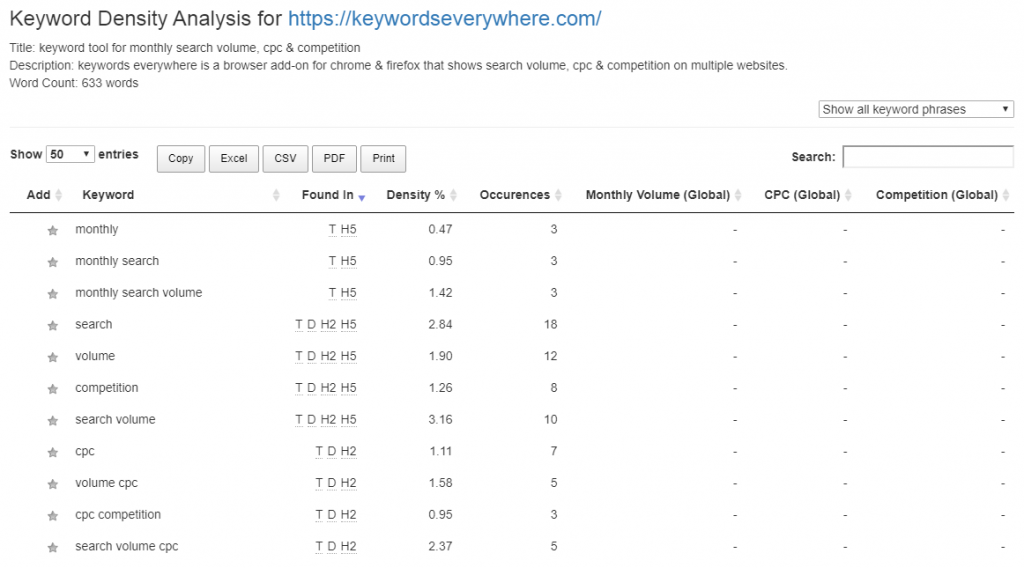 The analysis gives you the keywords of the URL, as well as the density of the keywords. To analyze a URL, simply be on the page, then click the Keywords Everywhere browser icon.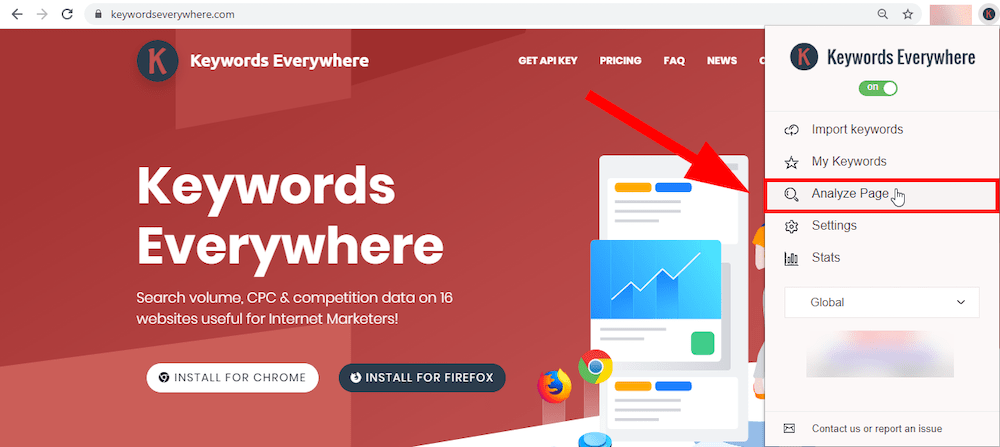 As you can see, the free aspect of the tool is limited. Hard to do real keyword research without vital metrics.
Paid Features
The main difference between the free and paid features is the data.
When you do a google search, you not only get the related keywords but also volume, CPC and competition numbers.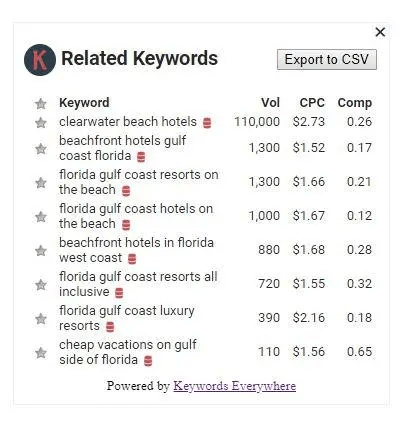 When you search on YouTube, you get volume, CPC and competition.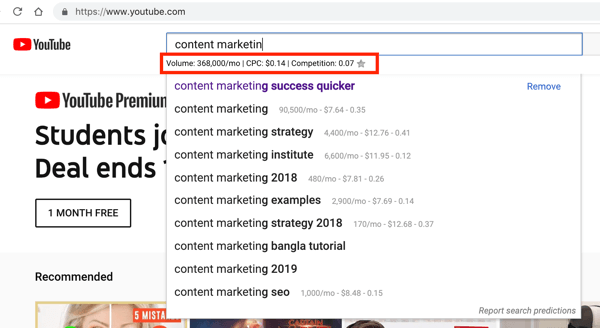 Same with the YouTube tags.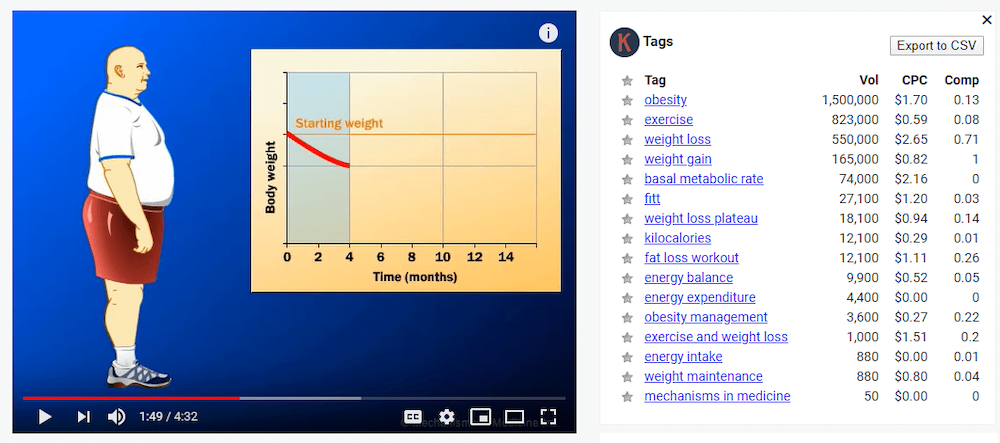 And as well for URL/page analysis.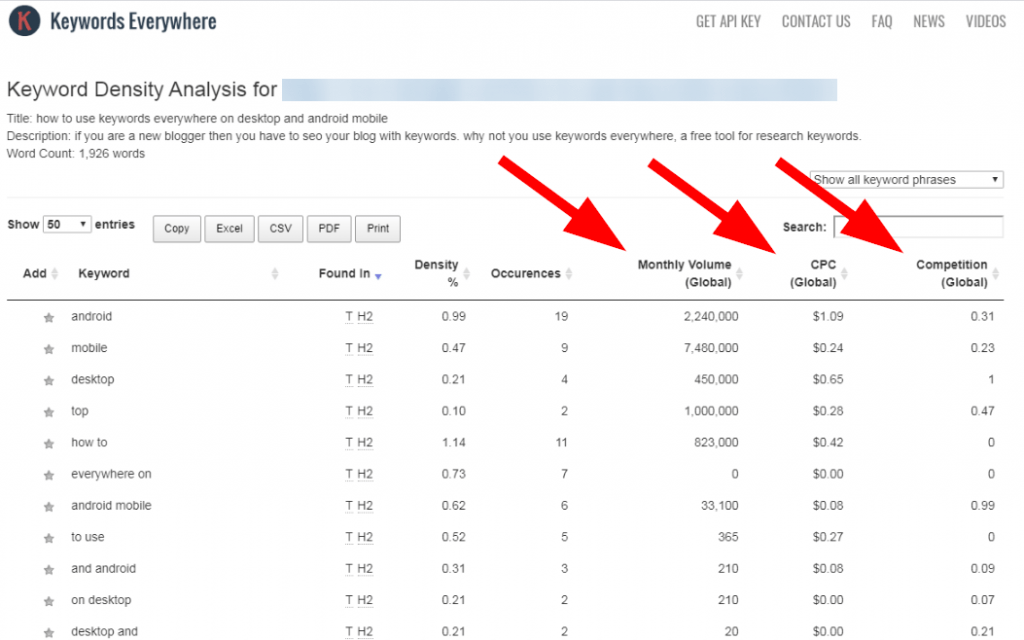 It's basically all the things you can do on the free version, but actually usable for keyword research.
There are also some things you can do, that you cannot with the free version.
You get integration support for 16 websites.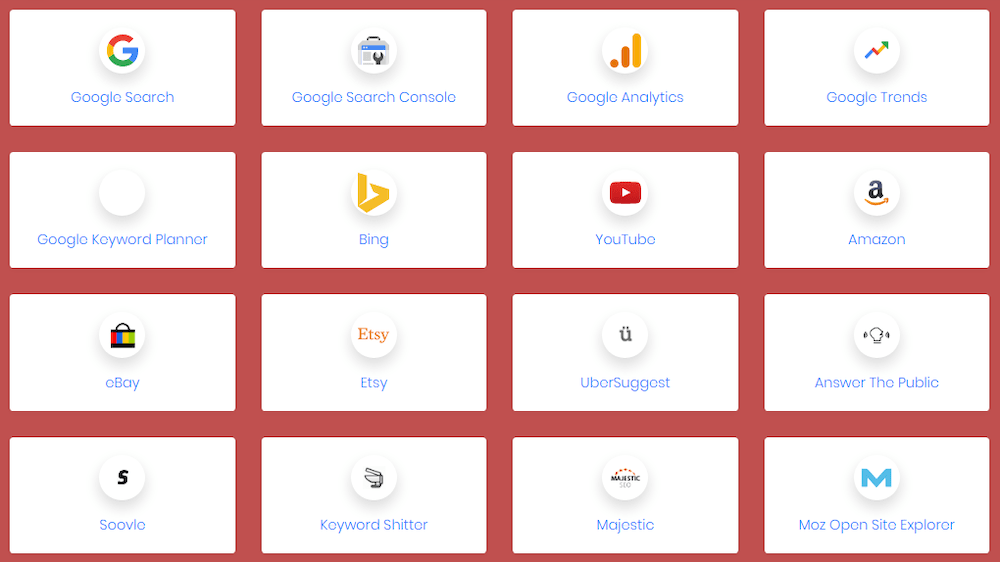 You can also import keywords to get volume, CPC and competition data on them.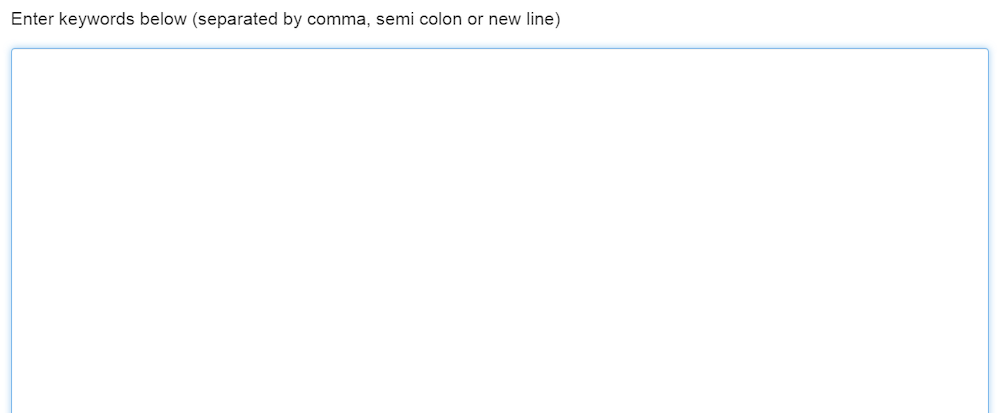 Pricing
Keywords Everywhere is different to most paid keyword research tools — it has a "credits" system. A credit is essentially the rights to data of a keyword.
So for example, one credit = one keyword — the search volume, CPC and competition data.
If that's still confusing, here's a quote straight from Keywords Everywhere's website explaining credits.
One credit gets you the volume, cpc and competition data for one keyword. So, for example if you import 1000 keywords into our import keyword tool, you will use up 1000 credits.

So how much does a credit cost? About $0.0001 per credit. You can't buy a single credit, you have to buy a much larger amount.
There are 6 different packages of credit bulks you can purchase.
100,000 credits ($10)
500,000 credits ($50)
1,000,000 credits ($100)
2,000,000 credits ($200)
5,000,000 credits ($500)
10,000,000 credits ($1000)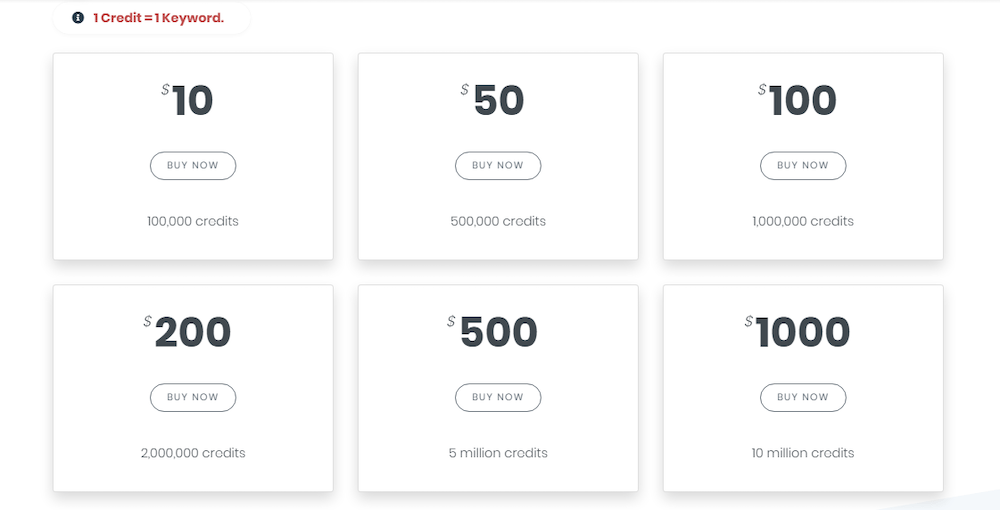 The price per credit doesn't change, irrelevant of which package you buy. Buying a larger credit package would be cheaper however, due to less payment processing fees.
FastSpring is Keyword Everywhere's payment processor, who allow PayPal or credit/debit payment.
NOTE: There are no monthly plans/packages. Everything is "pay as you go."
Integrations
Because Keywords Everywhere is a browser-based extension/add-on, it integrates quite well. The standard, "free" version syncs effortlessly with either Google Chrome or Mozilla Firefox. Google searches, YouTube searches — it all integrates.
But where integrations get interesting is when you have credits (paid version.)
Keywords Everywhere integrates with 16 unique websites — here's the entire list.
Google Search
Google Search Console
Google Analytics
Google Trends
Google Keyword Planner
Bing
YouTube
Amazon
eBay
Etsy
UberSuggest
Answer The Public
Soovle
Keyword Shitter
Majestic
Moz Open Site Explorer
Look at how the keyword research tool seamlessly integrates with eBay.
Amazon too.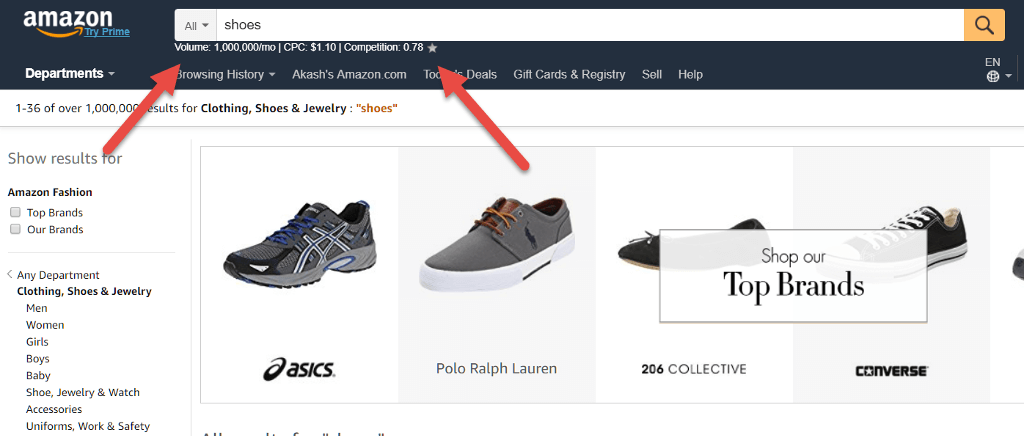 It'll also cleanly fit with Google Search Console.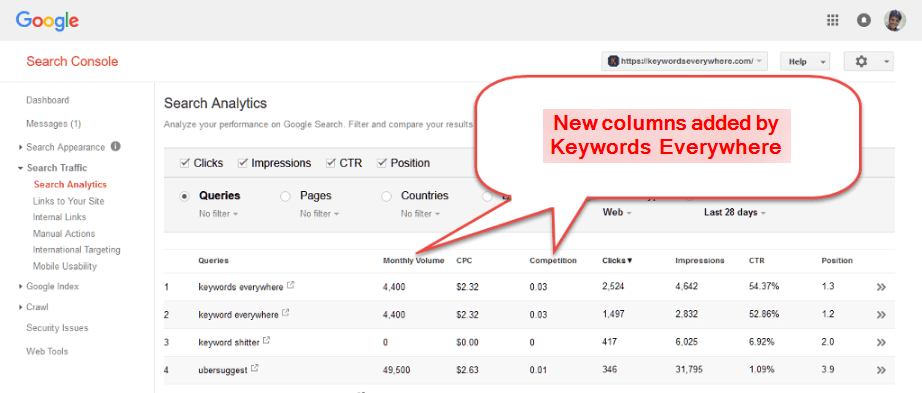 Great integration.
Customization
Based on our Keywords Everywhere review, the tool doesn't really have much customization, purely because its a straightforward tool. There are a couple things you can tweak though.
You can change where your keyword data is sourced from.

You can alter the search volume, CPC and competition

You can also choose which of the 16 supported websites you want Keywords Everywhere to work with.

Ease of Use
Keywords Everywhere is super simple to use — it integrates with Chrome/Firefox like any other extension/add-on does. There's no need to boot up an external program, the keyword data pops up on Google searches.
This tool takes less than an hour to master, it's really easy to use.
Implementation
Keywords Everywhere is really easy to set-up — there are 3 basic steps.
First, you need to add the extension/add-on to your web browser (Chrome/Firefox only.)

Second, you need to sign-up — you will be sent an email with an API key.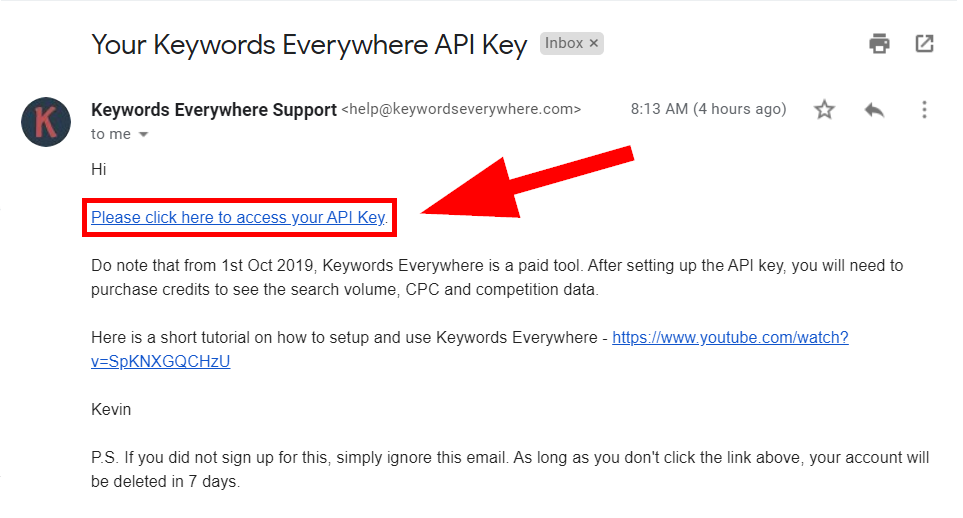 Copy the API key into the tool.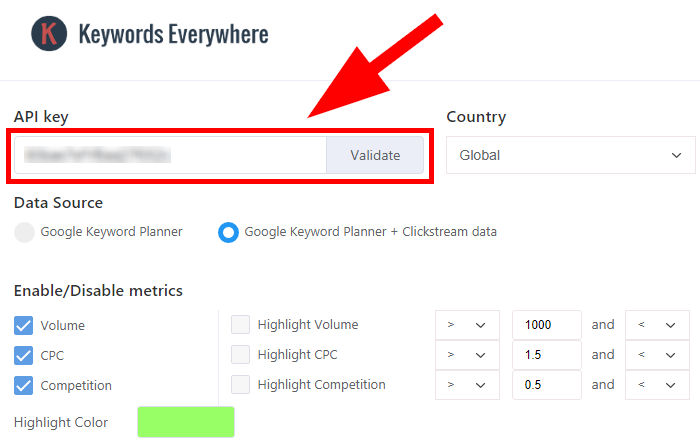 All done.
Support
Keywords Everywhere offers support in 3 ways.
A 10 minute YouTube video explaining how to install and use Keywords Everywhere
A "Frequently Asked Questions" section on the main website
An email address to send questions
The 10 minute YouTube video is enough for most to grasp how to use Keywords Everywhere.
If that's not enough, the FAQ section on the main website should help.
If either of those doesn't solve your problems, they offer email support.
Verdict
Pros
Very Easy to Use
Very Cheap
Fantastic Integrations
Very Easy to Use
Some keyword research tools have quite a learning curb — not Keywords Everywhere. This is a tool that can be mastered in a very very short time. Its simplicity makes it accessible anybody and everybody, regardless of your SEO knowledge.
Very Affordable
Although the tool is no longer free, Keywords Everywhere still comes out ahead of others in affordability. It has been estimated that the average person uses less than $2 of credits per month. Here's the exact quote from the Keywords Everywhere website.
We've analyzed data used by all of Keywords Everywhere's users and most users get data for less than 20,000 keywords every month. This translates into usage cost of less than $2/mo.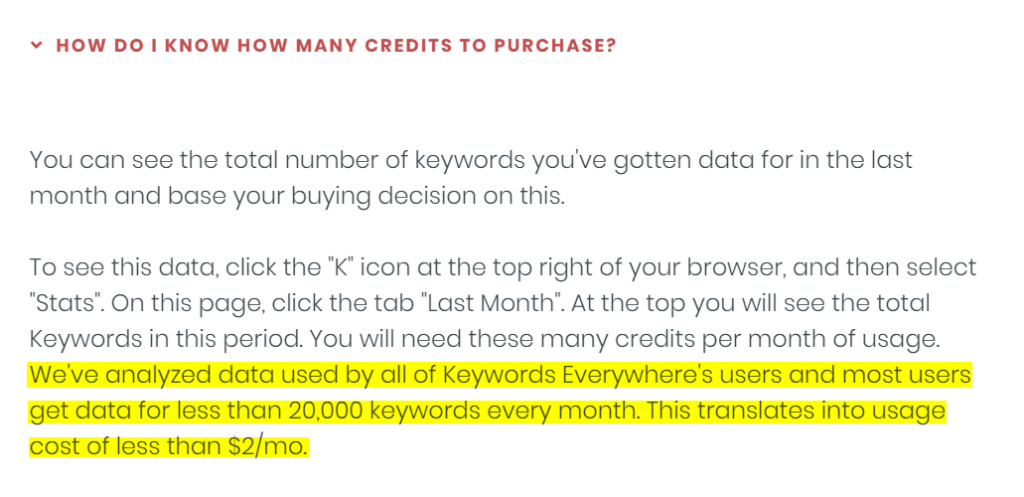 Fantastic Integrations
Keywords Everywhere is awesome when it comes to integrations — the tool connects with 16 different websites. These include a variety of different types of sites, ranging from ecommerce to even other keyword tools.
Simply put, you're not going to find many other keyword research tools with as many integrations.
Cons
Basic Features
No Longer Free
Basic Features
Compared to other keyword research tools, Keywords Everywhere might not have as many features. It is a very lightweight tool, really only meant for pulling search volume, CPC and competition data.
You're not going to find any extensive audience analysis like some other tools.
No Longer Free
Keywords Everywhere was once the best free keyword research tool on the market. It changed to a freemium model in late 2019, much to the disappointment of its user base. This wasn't really a surprise, as all businesses intend to monetize their products and services.
Keywords Everywhere Review Final Thoughts
Is Keywords Everywhere the right keyword research tool for you? If you're looking for an affordable option, this might be a solid choice.