Posted by:

Josh Astete
Comments:

0
Post Date:
January 21, 2019
---
What is the Best SEO Plugin for WordPress? Our Top 9 Choices:
Josh Astete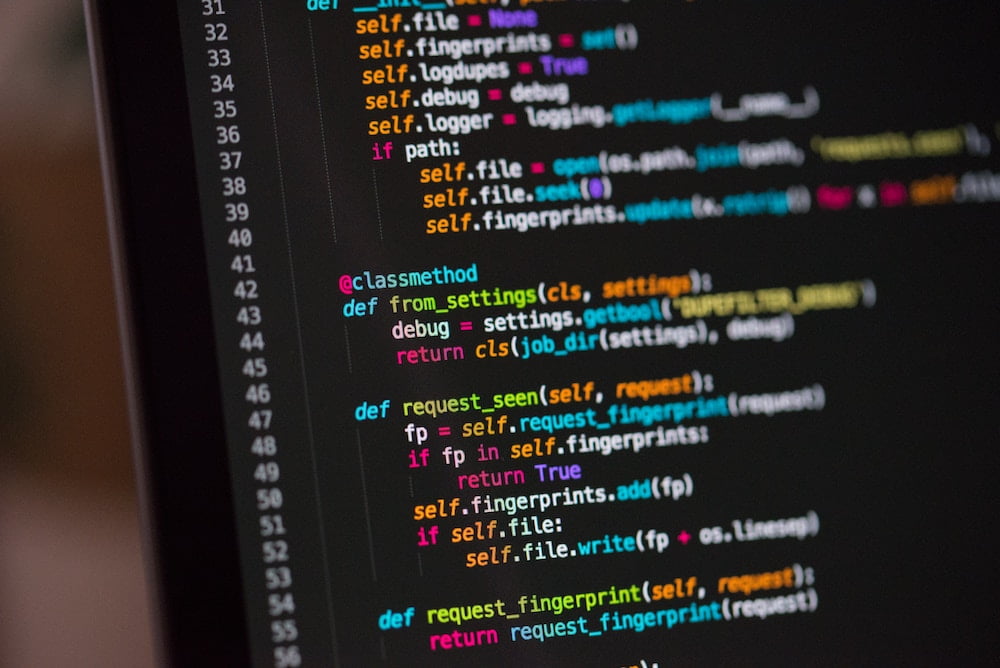 Thinking about launching an online business?
If you are, WordPress might be one of the top choices in your list of site builders.
After all, WordPress is the top choice for many interested in launching a website, whether it's a blog, an e-commerce site, or anything in-between. It provides a great platform for building a website from scratch or from a template.
However, what makes it the best is the number of plugins available to users.
Among these plugins are SEO plugins. These help website owners with the daunting task of securing their SEO strategy. With that said, what's the best free SEO plugin for WordPress?
There are plenty of SEO plugins, but we've gathered only 9 of the best free SEO plugin. Dive in and see which ones can help you with your SEO efforts.
1. Yoast SEO
Yoast SEO is at the top of the list for best free SEO plugin for WordPress as it gives you a ton of flexibility over your website. It has several SEO functions, including keyword analysis, readability check, duplicate content check, and more.
It lets you add meta descriptions, titles, and such. It also helps you set up a sitemap and some other functions that are great even for beginners.
If you opt for the premium plugin, which costs $89 per site, you gain access to more advanced features. These include social media previews, keyword optimization, and more.
One of the best things about it is that it has a terrific support system. Its website has a forum section and a blog full of information. It pushes out periodic updates, making sure it caters to every modern SEO strategy.
Check out just one of the many modules YOAST provides when optimizing your website content for SEO:
This first module allows for you to edit your meta title, meta description and social previews. It also gives you a readability score and keyword score.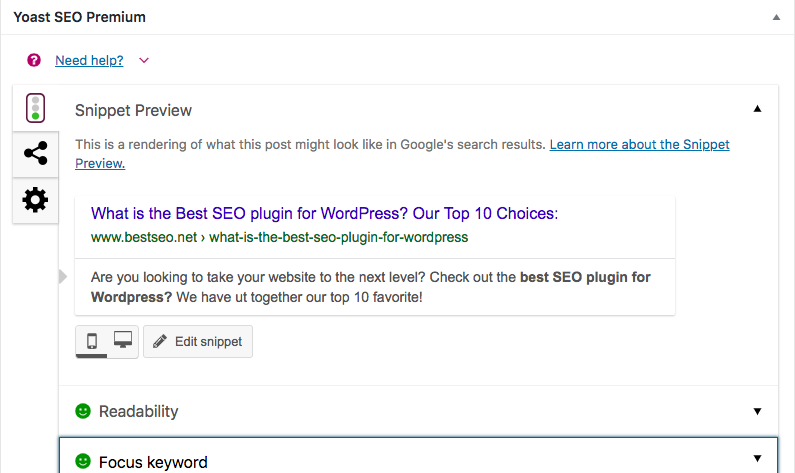 Once you add your keyword, YOAST will provide you with a score of your keyword performance. It will check off the things that look good and provide you with a list of improvements. You can see some of the things they analyze here: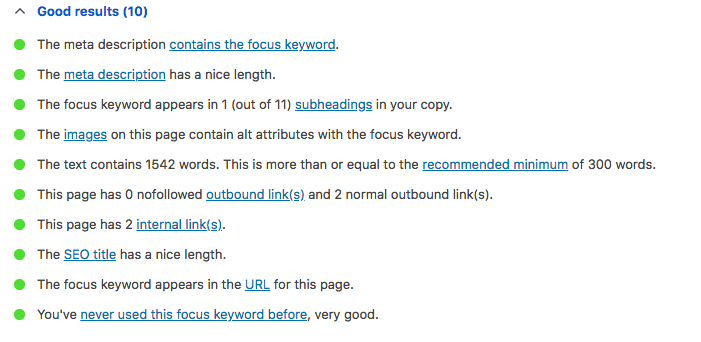 How does it stack up?
Cost – Free or upgrade to Premium for $89
Star Ratings – 5 Stars (24,000+ reviews)
2. All in One SEO Pack
As the name suggests, this plugin is the solution for (almost) every SEO challenge you have. You can use it whether you're a beginner or an expert.
It has default settings for each field, so you can leave them at that. This is often the best choice, but you can always change them to your preferred option. You can alter as few fields or as many as you want.
It also has automatic functions, too. This includes the optimization of your titles and the generation of your meta tags. It can also let you set up a sitemap, and it even supports Google Analytics.
For these reasons, All in One SEO pack is a good alternative to Yoast if it somehow doesn't work for you.
How does it stack up?
Cost – Free or upgrade to Premium for $97
Star Ratings – 4.5 Stars (350+ reviews)
3. The SEO Framework
Want a lightweight substitute for the other SEO plugins for Yoast and All in One SEO Pack? The SEO Framework may be the right choice as it removes the bells and whistles you won't likely need. Instead, it leaves behind a long list of options without bloats or ads.
You can add meta descriptions and meta titles to your posts. It also lets you set up some basic schema information, your sitemap and social meta information.
Its interface is perfect for beginners because of the lack of clutter. It also has a scale that lets you know how much your post is search engine-optimized. You can even add extensions so you can access more advanced features.
The best thing about it is that it's free and you won't have to pay for premiums features. For these reasons, many consider this to be the best SEO plugin for WordPress that is free.
How does it stack up?
Cost – Free
Star Ratings – 5 Stars (175+ reviews)
4. Google XML Sitemaps
A sitemap is a model of the website's content, which helps search engines better navigate the website. This means better indexing, the process of adding your web pages to Google search results.
In most cases, you'll have to create your own sitemap and then submit it to search engines. However, a plugin like Google XML Sitemaps will generate this for you automatically.
You may have to tweak the settings a bit, but other than that, you won't have to do much else. The plugin will also update the sitemap for you each time you post new content.
How does it stack up?
Cost – Free
Star Ratings – 5 Stars (2,000+ reviews)
5. Broken Link Checker
SEO isn't only about keywords – it's also about the links that come and go from your site. This is why broken links are a no-no; Google doesn't like links that lead its users to nowhere. However, managing links when you have thousands of pages is almost impossible.
This is why Broken Link Checker is one of the best free plugins in WordPress. It monitors all the links in your posts, pages, comments, and other areas. If it detects any link that doesn't work, it alerts you so you can remove it or change it ASAP.
It also has other functionalities, such as allowing you to set up how a broken link will look on your website. It also has an option that prevents search engines from following the link. Doing this, you won't suffer the consequences of a broken link before you can get around to fixing it.
How does it stack up?
Cost – Free
Star Ratings – 4 Stars (3000+ reviews)
6. SEO Optimized Images
While optimizing your content is great, people often overlook optimizing their images. This is because it might get time-consuming to optimize each image you insert into your post. This is a bad move as image optimization can also help improve your ranking and bring in traffic via an image search.
The SEO Optimized Images plugin will help with that by providing an easy way to add alt and title attribute values to each image. You can customize each alt value by choosing which to insert: name, title, category, or tags. Then, you can add a title attribute that will override the existing title.
How does it stack up?
Cost – Free or upgrade to Premium for $59
Star Ratings – 4 Stars (20+ reviews)
7. W3 Total Cache
W3 Total Cache promises at least 10 times improvement in overall site performance. This includes a significant boost in speed. This matters because the site speed is a huge factor in your website ranking.
This plugin has many functions that can improve the speed of your website. One of which is caching pages and posts, which can reduce the loading time of your website. It also reduces the size of third-party Javascript and CSS.
W3 Total Cache also allows you to serve compressed pages to your visitors. What this means is that it serves a compressed version of a page requested by a user.
Their browser will then extract it and display it. Because the page served is smaller in size, it also loads faster. You can enable this function with only a click with this WordPress plugin.
How does it stack up?
Cost – Free
Star Ratings – 4.5 Stars (4,000+ reviews)
8. SEO Squirrly
If you consider yourself to be a complete beginner in SEO, the SEO Squirrly plugin may be right for you. It markets itself as a no-nonsense complete SEO tool that eliminates some complicated parts.
What makes it different than the other SEO tools is that it does keyword optimization in real time. It operates as you write, which is contrary to Yoast that scans the content and makes suggestions after you save it.
Squirrly also has a function that analyzes your competitors. It will then make suggestions on how you can outrank it. This plugin also includes content reports, progress reports, and more.
How does it stack up?
Cost – Free
Star Ratings – 4.55 Stars (400+ reviews)
9. All in One Schema Rich Snippets
Rich snippets are the structured data in your site. They're written in a way that search engines can understand.
This helps search engines understand better what the web page is all about. If you add it to your markup, Google can show it on the search results page (SERP).
This is why Google loves rich snippets as it helps users better. This is also why you need this, especially if you have recipes, products, and such on your WordPress website.
WordPress doesn't have a built-in function that supports rich snippets. This is where the All in One Schema Rich Snippets come in handy, which will do all the work for you. It also makes sure the search engine only shows the most important elements.
Rich snippets are the additional details you'd see below the title of the page on the SERP. With rich snippets, your listing on the SERP may include star ratings based on how many reviews you got, the name of the author, an image of the author or product, a price, and more. It may even show additional links, such as ones leading to pages of specific dates of events.
How does it stack up?
Cost – Free
Star Ratings – 4 Stars (1,400+ reviews)
Which is the Best SEO Plugin for WordPress?
The best SEO plugin for WordPress is the one that works for you. That said, it can sometimes boil down to specific needs. Hopefully, this guide helps you decide which one best suits your site. Most of these are free, so don't hesitate to try them out.